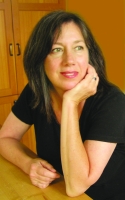 Biography
Throughout my life I have returned again and again to the subject of bird nests. By layering polymer glazes creating a luminous chiaroscuro effect, I interpret these ephemeral nests in giant scale, giving the viewer a bold perspective with which to emotionally connect to the natural delicacy of their construction.
Working as art director and photo stylist for home interiors magazines for most of my career, I have developed a strong appreciation for architecture and design. When studying the nests of songbirds, I see architecture and design in its purest form, which follows their simple function. I am delighted to see deep emotions exposed when people experience my paintings.
We humans react with visceral connection to the natural world, and research has proven the calming effects of walking in a forest. This points to the hypothetical biophilia bond between human beings and other living systems which I see as a spiritual manifestation of connection to the created universe.